For the last election campaign, we needed small tokens to identify our candidates again.  This time I made felted pins in the shape of sunflowers.  And now that campaigning time is over, I want to share the pattern.
Materials needed
Felting Mat
Scissors
Fine Felting Needle
Sewing Needle
Some Thread
Empty Pin
Yellow and Green Felt
Green Felting Wool
Steps
1. Cut out a small circle-ish shape from the green felt.
2. Cut out leaves (as many as you want/need) and start felting them on individually.
3. In order to create a nice shape, start with four you distribute roughly around the circle. You will felt the leaves on on the back.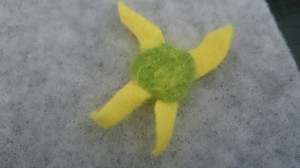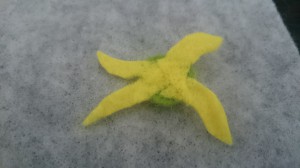 Then you add up on pedals as much as you want. Keep on adding them from behind and creating a sturdy  back.  Here is an intermediate view front and back.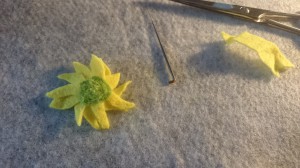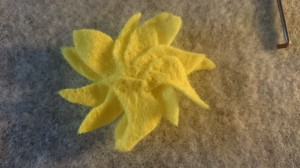 When you're satisfied with your flower, sew the empty pin on.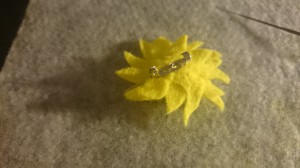 Finally, take the little bit of loose felting wool and felt it loosely into the middle.
And done!  Just attach it wherever you want and carry the sun around with you.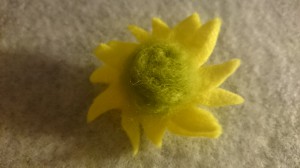 <3